Labor Day weekend here in the states...for the most part that means summer is over and fall is starting.  After the 90 degree weather this week, I'm kinda looking forward to it!
Couple of things going on here at Jillibean headquarters.  I can tell you that the "Golden" sprouts have started entering the marketplace.  Make sure to look for them in specially marked packages - you could win $100 in Jillibean product!  Oh, and there's our Millionth Sprout Project Contest going on RIGHT NOW!!!!!  Make sure to get your entries in...2 weeks left!  Visit your local retail store or favorite online store for Jillibean Journaling Sprouts!
We wanted to let you know that The Scrapping Bug in Canada is featuring our Alphabet Soup line in their September kit.  Below are some adorable cards from their gallery.  You can check out more great projects here.  The kit can be viewed here.
Also...speaking of sprouts...The ScrapRoom is featuring Pasta Fagioli and the Pasta Fagioli Sprouts in their Cafe Club September kit.  Check out the layout below ...and more great ideas here.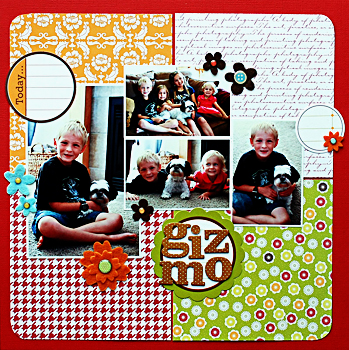 If you were paying attention, then you know that I mentioned a GIVEAWAY in the Title for today.  How about an awesome book from our Design Team girls Kimber McGray and Summer Fullerton?  I've got a signed copy!  I might even throw in some sprouts with it too since everyone needs them for the contest. ;) 
Remember This...great book with tons of fun ideas and inspiration!  There's bit of Jillibean product in there too!  Would you like to win one?  If so, leave a comment below!  I'll pick a winner Monday morning.
Good Luck and have a GREAT weekend!
Jill-o